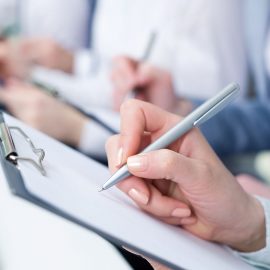 Our practice standards expect evidence-based approaches to the care we deliver. More and more, health plans including Medicare, Medicare Advantage and various commercial insurances are requesting outcomes to measure the value of the services we provide. Just recently, the IMPACT Act was signed into law, which will require standardized reporting of outcome measures for patients receiving therapy services in Post-Acute Care Settings.
Standardized outcome measures provide a common language with which to evaluate the success of therapy interventions. This provides a basis for comparing outcomes related to different intervention approaches. Measuring outcomes of care within the relevant components of function, including body functions and structures, activity and participation among patients with the same diagnosis is the foundation for determining which interventions comprise the best clinical practice.
As professionals we need to capture evidence-based documentation. Incorporating standardized tests is an easy way to show evidence-based data to support our intervention.
There are a number of tests that are available for free and many are referenced in the POSTette located on the Therapy Portal entitled, "Therapy Tests and Measures." Some tests do require purchase and can be expensive – we recommend focusing on the diagnoses you treat most and purchase accordingly.
Standardized measures also help to:
Identify dysfunction and deficits
Remove subjective factors from assessment
Provide results that can be generalized and repeated, which provides for external validity and reliability
Compare deficits to normative data by age group
Provide a "starting" point especially with the increased emphasis on evidence based practice
Provide measurable/objective outcomes for patient success from start of care to discharge to improve quality of care
Provide evidence based information to support intervention and reimbursement
Allow for tracking and trending of outcomes over time.
To Enter the Contest: Complete a blog entry below on how you successfully implemented the use of standardize testing into your clinical programming and documentation. A committee will review all entries to determine winners. The names of winners will be posted and prizes will be sent to you at your facility. HAVE FUN!!
The Deadline: Friday December 19th